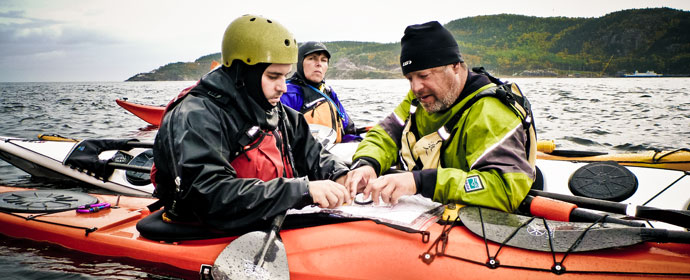 Skills and seamanship make a well-rounded paddler
This 4 day course aims to give paddlers the skills and knowledge required for proficient kayaking on a multi-day trip. The course will take place on a moderately exposed coastline with frequent easy landing opportunities. Students will take part in evening navigation exercises and a overnight camping trip. At this level, all participants should have their own equipment. A list of hardware requirements will be sent to participants.
A certificate of the Quebec Federation of Canoeing and Kayaking will be given upon successful completion of the evaluation. A strong forward stroke, effective bracing, manoeuvring in waves or current, and rescue skills such as rolling and towing are all necessary for passing the evaluation. If you wish to improve certain skills or you would like to arrive better prepared for the level 3 evaluation, our development courses (Skills Development : Current and Skills Development : Sea) serve as a good preparation for this course and are highly recommended.
For more detailed information:
download the FQCK Level 3 program (french only)
A few technical objectives:
Sweep forward/reverse
Low/high brace turn
Draw/sculling draw & Bow/stern rudder
Launching & landing in moderate conditions
Assisted & unassisted rescues, towing
Rolling
A few theoretical objectives:
Equipment & Resources
Navigation
Weather
Safety
Seamanship
Communication
Cost :

$550

Location :

Grandes Bergeronnes (or alternative location)

Length :

4 days (36 hours min.), including one overnight.
This course is for :

Those who wish to perfect their technical skills and seamanship. Paddlers wanting to plan multi-day excursions in costal regions.

Prerequisites :

Sea Kayak Skills Level 2 certificate + Experience: at least three full day trips in different locations. Minimum age: 18 years

Class ratio :

4 participants per coach

Includes :

FQCK certificate

Excludes :

Equipment, cost of accommodation, food, transport.
I would like to sign up or obtain more information for this course:
Contact us