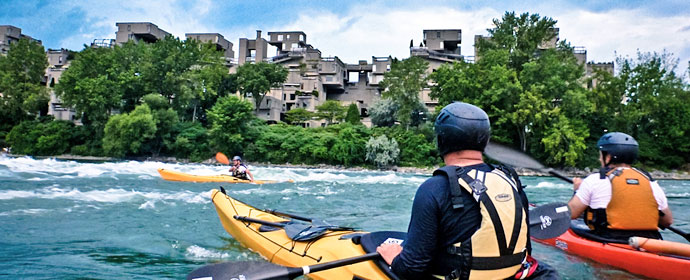 Thrilling lessons on the St. Lawrence
This course is designed for kayakers who have good boat control in calm waters and who wish to discover the fun of paddling in dynamic environments. The first morning is devoted to theory where we explore topics such as navigation, water dynamics, and reading currents. The afternoon and all subsequent days take place on the water.
This training is given on three non-consecutive days, with each day taking place in increasingly challenging conditions. This allows paddlers to gradually increase their confidence while remaining in their comfort zone. For some the first day will feel like plenty, while for others the third day will fuel their desire to keep playing!
White water techniques:
Ferrying
Eddy turns
Rescues in moving water
Particularities of whitewater:
Eddy
Eddy lines
Whirlpools
Cost :

$130 / day

Location :

Montreal and various locations on the St. Lawrence Seaway

Length :

1 to 3 days
This course is for :

Kayakers wishing to explore the particular aspects of white water, and wanting to improve control of their boat in these conditions. Kayakers wanting preparation for the Sea Kayak Skills Level 3 assessment.

Prerequisites :

Sea Kayak Skills Level 2 certificate (or equivalent) + solid boat-handling skills in calm water.

Class ratio :

Maximum of 6 participants for 1 coach

Includes :

Certain safety gear can be made available (ex: helmets)

Excludes :

Lunch & snacks, dry change of clothes, adequate paddling clothes for weather conditions, adequate paddling shoes.
I would like to sign up or obtain more information for this course:
Contact us