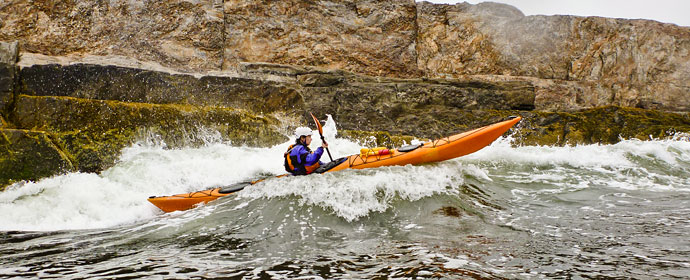 Discover surfing, rock hopping, and leadership skills
New dates:   July 2015   //   Location: Maine
During this 3 to 5 day course, a variety of weather conditions and paddling environments will be used to create learning opportunities for paddlers. Beyond improving their technical skills, paddlers will be introduced to the notion of "leadership skills" ; Risk assessment, group awareness, and a respect for the environment are all critical concepts in sea kayaking.
At this level paddlers are encouraged to search for answers to their questions by experimenting, using trial and error, and having informed discussions with their fellow paddlers and coach. Over the duration of the course, each paddler will be called to lead the group in different environments and weather conditions. They will make decisions involving risk assessment, rescues, navigation, and group dynamics. Each scenario will then be discussed as a group to highlight the successful outcomes as well as point out areas which could have been handled more efficiently. These debriefings prove an invaluable learning tool for all paddlers.
While weather conditions and the group's paddling abilities will determine which specific activities will take place, all participants can expect to reach new heights with their paddling, have a tons of fun, and discover beautiful coastal environments.
Learning in our boats:
Surf
Launching and landing in surf conditions
Rock hopping
Tides et tidal currents
Navigation
Deep water rescues
Learning within a group:
Leave-no-trace
Risk assessment
Group awareness
Weather
Seamanship
Safety and communication
Cost :

$150 / day

Location :

Various costal locations

Length :

3 to 5 days
This course is for :

Paddlers wishing to acquire the skills necessary for paddling in zone 3-4 conditions. Paddlers who organize outings and guide groups. Paddlers wanting to be better prepared for the Sea Kayak Skills Level 3 assessment.

Prerequisites :

Sea Kayak Skills Level 3 certificate or equivalent. Sea Kayak Skills Level 2 certificate or equivalent + solid boat handling and capable of paddling a full day (at the discretion of the instructor).

Class ratio :

Maximum 4 participants per coach

Includes :

Although the cost of travel and accommodation are not included, carpooling and sharing camping equipment can be arranged when possible.

Excludes :

Paddling gear, cost of accommodation, food, transport.
I would like to sign up or obtain more information for this course:
Contact us