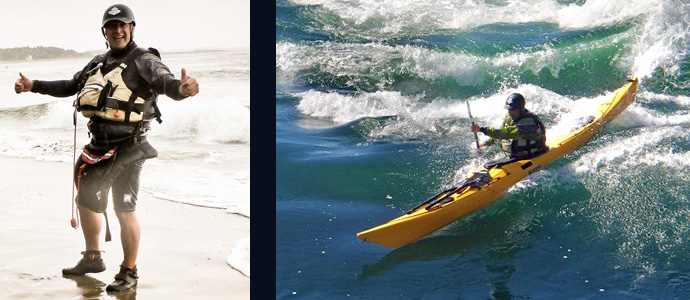 Sylvain has been an avid paddler for over 25 years. It is his dedication and passion for the sport which led him to the UK in 2012 where he was awarded the highest recognition in sea kayaking: the BCU 5 Star Leader Sea Kayak. Being the first Quebecer (and among a handful of Canadians) to receive this distinction has not shaken his conviction that there is always more to learn … from others, from the sea, and from oneself.
In addition to frequently paddling abroad, Sylvain remains an active member in the Quebec sea kayaking community. He has been on the FQCK program development committee since 2007, and was called in 2011 to participate in the development of the Route Bleue du Grand Montreal (one of the last sections added to the St.Lawrence Seaway).
Sylvain has been a P&H Team Paddler since 2011 and can frequently be found playing in the tumultuous waters of Maine and the UK.
BCU 5 Star Leader Sea Kayak     ●      FQCK Level 4     ●      FQCK Level 4 Coach
A mentor and a friend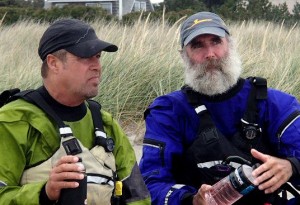 Over the years John Carmody has become a friend and inspiring paddling companion with whom I have shared unique experiences and memorable adventures. The invaluable guidance he continues to offer has allowed me to grow as a paddler and as a coach in more ways than I can count. I would like to thank John and Marybeth for the kindness and hospitality which they have shown me over the years. It is always a privilege to find myself in your company.

Hats off to Sylvain Bédard!

Over the years Sylvain has been one of our most active sea kayaking coaches. He has trained over 800 people since 2003, representing 10% of certified paddlers for that period. Passionate, you say! This is a feat in itself which deserves recognition.

However, the tilt of our hats is aimed at a much more impressive accomplishment: during a recent assessment in England Sylvain became, according to our sources, the first Quebecer and the second Canadian to successfully gain the British Canoe Union title of "BCU 5 STAR SEA KAYAK 'LEADER'" , known among paddlers as the "holy grail" of sea kayaking.

The Federation is proud to count among its coaches a person like Sylvain who, in addition to sharing his passion with his students, remains a student himself always ready to question and to learn.